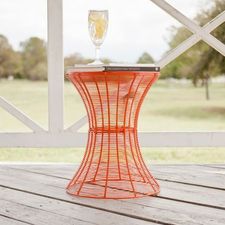 Accent Furniture
Accent Furniture is an eclectic mix of materials and finishes that characterize the wonderful assortment of different types of furniture that you can purchase to add beauty, highlights, and usefulness in many parts of your home! This is the furniture that will take any room in your house to the next level of usefulness, decor, and beauty! Accent furniture includes accents tables, bench and storage benches, blanket racks, cedar chest and hope chest, curio cabinets, game tables, chess tables, nesting tables and other accent furniture. When choosing the right accent furniture for your home there are so many different types of furniture in so many different styles and colors that we are sure that you will be able to find the perfect accent pieces to decorate your home with!
Accent tables come in a wide variety of styles and finishes. When you add an accent table to your room it adds functionality and beauty to your room! Adding an accent table to your room could serve a simple purpose as now having a place to set your drink or to show off a plant or flowers! Accent tables are usually very sturdy and very stylish. They can be as simple as just 4 legs and a top to a piece that has lots of drawers and compartments to store all kinds of things needed for your room or just to add style and beauty to your room Accent tables can be placed by themselves in different parts of a room or next to a chair or couch to add functionality, purpose and beauty to your room! An accent table can be added to any room in your house and is sure to bring lots of style to whatever room it is placed in.
Another great piece of furniture to add to your home are benches and storage benches! Benches and storage benches are great to add to any room in the house. They add a place where a person can sit, a place where items can be neatly stored, and it is an accent piece of furniture that is sure to add beauty and style to any room it is placed in. Here are some things that need to be considered when purchasing your new indoor bench. Some of the more popular places to put a bench are in the bedroom, living rooms, and foyers. Indoor benches with storage are decorative and sensible additions to your house, especially in rooms where cluttered items seem to stack up! They can be used as a great space to store blankets, pillows, or even video gaming equipment. For smaller areas like your bathroom, benches can be used as a soft seat that can double as a vanity bench! You can create lovely seating areas anywhere in the house with your home or storage bench. With so many styles to choose from, you are going to want to find a piece that matches or adds to the beauty and decor of your home.
Blanket racks are a great way to store your blankets and add a nice look to the decor of whatever room it is placed in. Blankets racks come in many different styles and finishes to choose from! Blanket racks are often used as a valet stand. Blanket racks come available in many finishes and styles. Whether you're using the blanket rack as a men's valet stand, a quilt rack, or to store blankets, your blanket rack will add a lot of beauty, style, and decor to any room that it is placed in!
Cedar chest and Hope chest are other great accent pieces to add to your home! They come in a variety of finishes and styles. A cedar chest or hope chest makes the perfect gift to yourself to add to your furniture collection! They look beautiful, they have great designs, and they add beauty plus storage to any room that they are placed in. Hope chest also can add great meaning to a person's room. This is because the history of a hope chest is that it was originally called a wedding chest or glory box. Its purpose was to be a box containing items typically stored by unmarried young women in anticipation of future marriages or married lives! The term "hope chest" may be used primarily by Midwestern American women. The term "glory box" is used by women in the United Kingdom and Australia. Cedar chest and hope chest are great for storing all kinds of items like blankets, pillows, video gaming equipment, etc!
Curio cabinets and corner curio cabinets are a great way to display collections or plates. With these beautiful cabinets, you can show your friends and family your things as best as possible and in a great display! A curio is a predominantly glass cabinet with a metal or wood framework used to display collections of figurines or other neat objects like that, that share some common theme. Most curios have glass on each side of it or a mirror at the back and glass levels to show the entire figurine or object you are displaying. A curio keeps your items stored away from dust and in safe setting that will keep your valued objects in mint condition with dustless protection! Curios are also used to display single crafted dolls that are very popular items. A curio though is different from a display case. This is because a display case is usually horizontal to display such things as jewelry and usually has a lined bottom with nice material while a curio is vertical to show standing items and usually has no bottom lining.
Game tables and chess tables are sure to add fun, excitement, entertainment, and bring people together to share memorable experiences. Most game tables and chess tables come with reversible game boards and all the game pieces you need for chess, checkers and backgammon, dice and roller cup are also included for backgammon. Your chess board will be integral to the table top and often has two drawers that are provided to hold the pieces when not in use. Chess tables can be extremely decorative, well made and potentially expensive pieces of furniture. Most chess tables have the board inlaid or engraved while less expensive tables may have it painted on. A chess table is not necessary to play chess and is not restricted only to playing chess. It can be used as just an accent table to add beauty and decor. Many chess players enjoy owning a chess table as a decorative piece of furniture and that also marks their interest in the game. Owning a chess table will not make a person a better player, but it can add degree of class to a match and it may intimidate your opponent by indicating that your interest in the game is apparently deep enough to make a special table worth your purchasing! Chess tables are typically are made of solid wood with rosewood, cedar, and mahogany being the most popular. Many cities and universities have chess tables in their parks and gardens. Many coffeehouses also have chess tables. Most are the size of a normal picnic table, although some are larger than life sets that use pieces that are about the size of a small barrel. Your game table can represent many different types of games such as checkers, backgammon, dice, etc. With so many options to choose from, your game table or chess table is sure to bring many memorable moments to your house and add beauty, style, and decor!
Nesting tables and Nested tables are a great way to give any room in your home functional space. They are also great because they neatly store under one another when not in use. If you are decorating a small space then nesting tables are great especially for small homes, since they give you several tables in the floor space of only one. They are also great for homeowners who entertain because with a nesting table they can provide additional room for drinks or food at a moment's notice. Best of all, you'll find lots of affordable options on the market, many offering three tables for about the same price you'd expect to pay for one. What could be better? Nesting tables nesting tables come in a variety of styles and finishes to compliment your existing decor while adding style and beauty.
Accent Pieces are elegant and eclectic mix of materials and finishes characterize the wonderful assortment of accent furniture. In general, there is a giant selection of accent furniture which includes accents tables, bench and storage benches, blanket racks, cedar chest and hope chest, curio cabinets, game tables, chess tables, nesting tables and other accent furniture! Best of luck finding the perfect pieces of furniture that will add beauty, style, storage, and functionality to any room in your home!
Sponsored Links